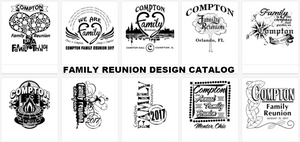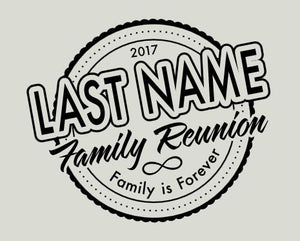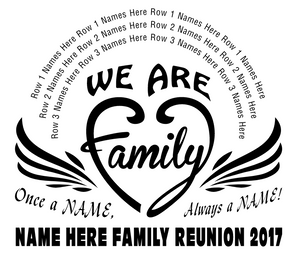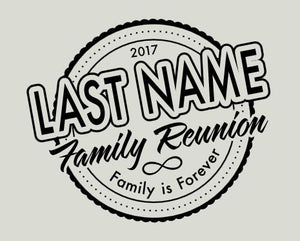 Family Reunion T-Shirt Design E-Catalog
This is a 50+ design e-catalog.
We print on 100% heavy cotton t-shirts, have over 50 designs to choose from, and the print is available in just about any color.
To place your family reunion shirt order after you receive the catalog, choose a design or multiple designs for each branch of your family tree, then email us the catalog number of the design(s) along with the quantities you want of each design. We will send you a quote based on the information that you provide us.
If you already have a design, please send it to us and we will reproduce your image, show you what it will look like on a shirt, and give you a competitive quote. All shirts are pressed by us in our shop, not outsourced.  If at any time you have any questions or feedback for us, then you can call, email, or text us.
One color designs are priced as follows for children and adult sizes S-XL and do not include shipping costs:
10 Shirts = $20/Shirt = $200
25 Shirts = $14/Shirt = $350
50 Shirts = $11.50/Shirt = $575
100 Shirts = $10.75/Shirt = $1,075
101+ Shirts = TBD, contact us for large quantity discounts
Sizes 2XL-3XL are available and are an additional $3.50 each
All In His Image apparel is designed, printed, and pressed by us in our shop.